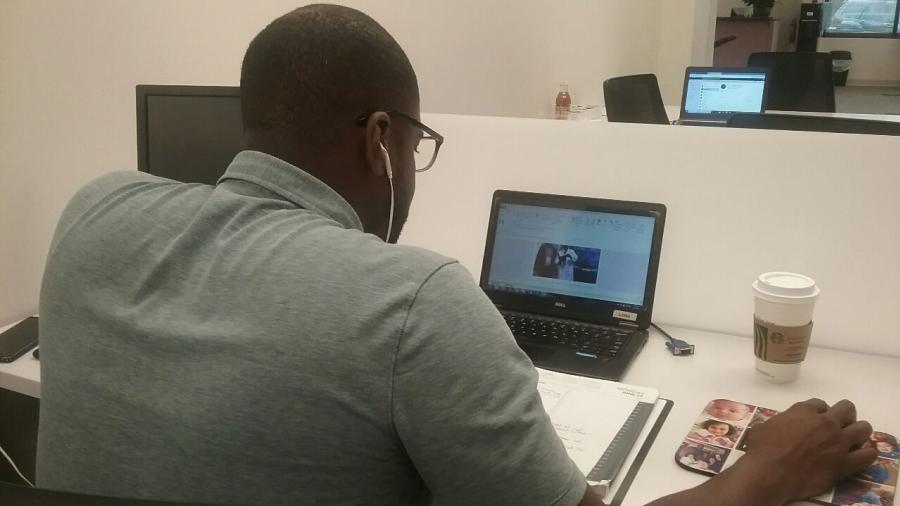 As a Regional Asset Protection Manager for Lululemon Athletica, Stephen McIntosh requires a unique workspace that is free from distraction and offers a professional, constructive atmosphere. Officing out of 712 Innovations has allowed him to have a stable work environment and create his own personal office setting close to home.
We sat down with Stephen to learn a little bit more about the responsibilities of his unique position and how 712 Innovations is helping him succeed in his work.
First off, tell us a little more about yourself and what it is you do for Lululemon. 
"I support a geographic area of Lululemon for all safety and security and operational risk management for the organization, for stores, the corporate office and supply chain. I'm responsible for the Southwest United States: this includes Texas, Oklahoma, Arizona, New Mexico, Nevada, Utah and Hawaii. We have over 400 stores globally and I'm just one of nine people on the team that supports the security of the stores in North American and Europe and the corporate office in Vancouver, Canada. I do a lot of training awareness in support with safety. In keeping with operational risk management, we want to provide these and other services to ensure that our stores' teams are always safe and secure.
For nearly eight years I've been blessed to be here in this market, live in Topeka, and continue to support the company and travel for my work about 60% of the time. I actually moved here to go to Washburn. I finished up my undergrad degree at Washburn in Criminal Justice and received my Master's in Business through Baker University. I've been here since 2002."
How long have you been a member with 712 Innovations and what programs are you interested in?
"I became a member in mid-May of 2019….I was able to take part in 1 Million Cups recently and, for me, it was inspiring to hear what's going on in the community and what the entrepreneurs are doing in this market to elevate what Topeka has to offer."
Tell me how 712 Innovations has impacted your work?
"Since I work remotely, I do have a lot of video conference calls, a lot more email and phone conversations. So, it has definitely impacted my performance. If I didn't have the option to office here, I would have to drive all the way to Kansas City. Or I'd be in a coffee shop, which is fine, but when you're trying to take conference calls and trying to articulate certain messages during those conversations and the blender is on full blast in the background, it makes it a little bit challenging. And, for me, to office from my home, is a major distraction. Just knowing the yard needs to be cut makes me want to jump up and get the job done then and there, but that could put me behind on my work, so the benefit of having a hot desk option is very valuable. It's also a growing trend throughout the U.S. The more you think about these trends and the success other cowork spaces are experiencing like WeWork, a major player in the game, the more incentive there is to utilize and expand on these opportunities in Topeka."
For more information about 712's programs and membership information, click here!