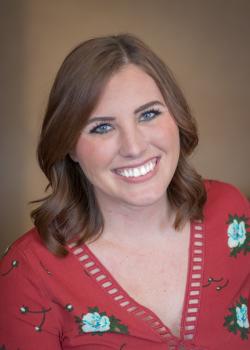 Lindsay Lebahn is the executive director of Forge, the young professional's network of Topeka & Shawnee County. Forge is working to make the community a place where young professionals want to live, work and play. Building a young and diverse workforce is key to the economic development efforts of the community. 
Lebahn spoke with us during Economic Development Week about her work with GO Topeka, Forge and the business community.
What is a typical day like in your position?
I know it sounds cliché but it really does change every day. A lot of the time it feels like I'm constantly running around. But that is because Forge is doing so much throughout the community. Being the only paid employee for Forge, a lot of the support comes from our awesome group of volunteers. I'm here to foster community relationships, help brainstorm fun opportunities, keep us on budget, make everything run smoothly behind the scenes, and as set the foundation for the future of the organization. No pressure, right?
Going off that, what do you love most about your job?
On a larger scale, I love that Forge helps build the leaders of tomorrow and a voice that allows us to have an impact on the future of Topeka. Topeka is constantly changing and growing, so contributing even a little to that is truly exciting. On a smaller scale, being a people-person, I love that I get to know so many people throughout the community.
How did you get into this field?
I've always loved getting people together, whether it is a couple of friends for a game night or hosting a party. So, event planning was a natural fit for me.  In the event world things are always changing. There is pressure to think outside the box, do things no one has done before and do this with a smile on your face. I feel lucky to have such an impactful role that allows me to apply that mindset toward Topeka and help carry the momentum of Top City.
Why did you choose to live in Topeka?
Oh, that's a story for the grandkids! I met my now husband at an airport in Hawaii. He was a Washburn grad and lived in Topeka, I was an event planner living in Nashville. We did the long-distance thing for about 2 years before we decided to move in together. We both originally thought that Nashville would be where we would start our life together. But after taking a deeper look at Topeka, we both realized that between the affordable cost of living and the small town feel with big town opportunities, Topeka was the place we needed to be. I am so glad that we decided to plant our roots in Topeka. I fall in love with this city more and more every day!
Any advice for Young Professionals wanting to work in Topeka?
Speak up. I think it's as simple as that. One of the things that I was really surprised about when accepting this position was realizing how much our voices do matter and how much our community leaders genuinely want to know what we think. We can't move forward if we aren't talking about how we can make a difference in this community, which makes the power of positivity a key component in striving for the cultural change that is happening in Topeka. Positivity is just as infectious as negativity. So the more positive we can be, the quicker it will help change people's mindset about Topeka.
Cake or pie?
Oh, definitely cake. I'm not a fan of any kind of pie - which is probably the most Non-American thing I could say. But I would choose the worst cake over the best pie any day! With pie, there are too many factors to choose from: hot and cold, fruit and savory, and don't even get me started on the textures! Just give me a pudding pack and a spoon and I'm set.
What makes you smile?
Everything! I'm literally the most smiley person ever. Seeing other people smile is one of my favorite things and genuinely brings me joy every day. There is always something to smile about, even if I'm having a hard day and everything seems to be going wrong. A smile can change your day, so keeping the positivity through the tough times is key.
If you could only watch one movie every day for the rest of your life, what would it be?
I'm not a big movie person. I am such an on-the-go type of person that when I do actually have some time to relax and sit down to watch a movie, I always fall asleep. It drives my husband crazy because he's a huge movie person. If I had to choose one movie, it would probably be The Sandlot.
If you were an apple, what would your "core" values be?
Ba dum tiss. I love a good pun! My core values would have to be integrity, enthusiasm, creativity, inclusion, and to be an overall giving person. I've never met a stranger. I'll talk to anyone. Even if I don't know you, I want to get to know you. If we want to take it to the next level the seeds of my core values, or the things that I can plant that can help other people. Smiles, positivity and a listening ear are the little things that I can do to help better another person's day.