Highways and interstates, railways and aviation are all key components of a strong travel and transportation infrastructure. Strong travel infrastructure is a key component of a robust tourism ecosystem and Topeka, Kansas is positioned in a prime location with some of the most dialed-in and interconnected infrastructures in place.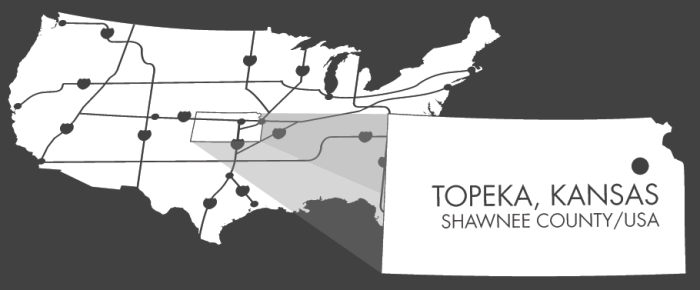 Topeka's position is so prime, in fact, that 90% of the United States can be reached in just 2 days or less. This is due to Topeka being nestled in the middle of U.S. with connectivity to five major highways, which allows quick access to Interstate 70 and 335 as well as Highway 75 and is crucial for regional and national travel markets to visit our city. Not only is Topeka at the crossroads of major highways it is also served by two airports, Manhattan Regional Airport and Kansas City International airport, both within 60 minutes.
According to the 2018 Domestic Travel Report, 43% of domestic travelers visit a city to visit with friends and family and have an average trip spending of $596. 14% are business travelers with an average of $878. 13% are entertainment and sightseeing and have an average trip spending $1,270. All of this helps contribute to the overall economic success of Topeka and highlights the power of tourism and the impact it can have on a community. As of 2017, tourism spending supports 4,877 jobs and represents 1 out of every 20 jobs in Shawnee County. Tourism activity also brought in 57.4 million in tax revenues with $34.1 million accruing to state and local governments.
During the 2019 National Travel and Tourism week we would like to thank the residents of Topeka & Shawnee County and commend them for being welcoming and a friendly host to thousands of tourists each year. Not only is the travel and transportation infrastructure a key component to tourism, so are the citizens.