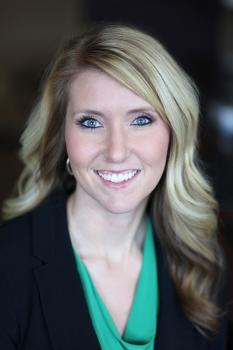 Molly Howey, senior vice president of Economic Development for GO Topeka, was recently named one of Development Counselors International's (DCI) 40 Under 40. This is a huge honor for both Howey and Topeka as a whole.
40 Under 40 is a biennial awards program recognizing the top "rising stars" under 40 years of age in the economic development industry. Every two years, the DCI searches to find the most innovative, impactful young economic developers around the globe- Howey was one of these "rising stars."
Howey's job entails helping her city grow by bringing companies to Topeka. She joined GO Topeka in 2011 and has spent the last six years marketing the capital city.  In her role, she manages two industrial parks the organization owns and oversees all economic development efforts in the county.
Some companies that have grown or relocated to Topeka during Howey's time with the organization are Mars Chocolate, Big Heart Pet Brands, Target, Federal Home Loan Bank, Home Depot, and Frito-Lay.
Though her ever-present humility and dedication made her a bit uneasy to talk about her successes, we were lucky enough to sit down with Howey, ask her a little bit about her work, and see first-hand why she was selected for this honor.
What is a typical day like in your position?
MH: I'm going to have to flip this a little bit, because one of the reasons I love economic development so much is that there isn't a typical day. I could be doing anything on any given day. From something as simple as attending county commission meetings to hosting a site visit for a multimillion-dollar company, no day is ever the same.
Going off that, what do you love most about your job?
MH: I like the variety, as I said, but I also really love the constant need to learn new things and the fact that I will never know everything there is to know in this field. When dealing with the array of industries that wants to come to our community, I have to learn about each industry and each company, because each is unique in their needs and values. I also enjoy being able to show off our community to people that aren't familiar with it. It's fun to introduce them to a place that so many great people call home and it acts as a nice reminder to someone like me, who was born and raised here, that there are incredible things about Topeka that sometimes we take for granted.
How did you get into this field?
MH: I think it's fair to say that economic development isn't widely known to most kids or college-aged adults today. There are a few who are going to school and know that economic development is the career for them, but that isn't the case for most people and it certainly wasn't the case when I came into the field. Most with a degree in this field got it as their second degree or they've gone back and found it by way of a master's or doctorate. I got into economic development when joining the then, Chamber, now, Greater Topeka Partnership. I had worked before at a private sector marketing firm in town, and then spent a couple of years at home with my kids. When I decided to come back into the workforce, I was looking for a job that I knew was going to provide variety, stability and a healthy work-life balance and when I saw the opening at the Chamber, I knew that this would provide me all three of those things. I originally worked as a research manager, researching our community and doing a lot of backend work for this position, and then I went back to school, while working here, and got my degree in economic development. It wasn't a straight shot into this career path, but I'm so grateful to have found it.
As you said before, you are a Topeka native, what made you want to stay in Topeka?
MH: The easy answer is family. Family is very important to me, so I am happy to stay so close to them.  I also love the ease of living in Topeka. There aren't any commutes, you can typically find everything that you need here. I love the fact that we have four seasons. And now, I'm glad to raise a family here, to know this is where my kids will grow up, because it's a great community.
What advice do you have for anyone going into this field?
MH: Reach out to as many leaders as possible in your community and listen to them. Gather as much feedback from the community as you can. This will not only help you learn how to best position the community to companies that are thinking about putting down roots in your city, but it will also allow you to hear what is needed and what the community is asking for, so you can try to meet that need. Overall, my advice for anyone is this: read a lot, listen a lot, and always be learning. 
Cake or pie?
             MH: Oh, totally pie.
What makes you smile?
MH: My husband and my kids, of course. And, you know, our days are pretty fun at the office. We're a great team, so my coworkers make me smile as well.
If you could only watch one movie every day for the rest of your life, what would it be?
MH: If I had to choose on the spot, probably How to Lose a Guy in 10 Days. This may not sound like the most aristocratic choice, but if I had to watch a movie every day for the rest of my life, I would want something light-hearted and fun. How to Lose a Guy in 10 Days is funny and makes me happy, so that's probably what I'd choose.
If you were an apple, what would your 'core' values be?
MH: Is this just a fun way to ask what my core values are?
Yeah, I really dropped the ball on this question, but you nailed it on the head. What are your core values?
Family and loyalty are huge for me. Also, integrity and honesty, doing what you know is right even if it's hard. One thing that's big for me is that everything you do – every job or endeavor – should be fun for the most part. And I think if you're not having fun in what you do, then maybe you should be doing something different.
Lastly, is there anything else that you'd like to share about your position or the honor you received?
MH: I would say I'm honored to have entered the economic development industry at the time that I did, because I can appreciate the change that is happening right now. Economic development has seen a big shift from an industry 'best practice and trends' standpoint, but also, five years ago, I would almost always be the only female in the room and would definitely be the youngest, so I'm proud to be a part of an industry that is making change and is trying to become more diverse and relevant.
Howey is a wonderful leader in Topeka who lives her life just as most successful people do: listening well, working hard with integrity, and having fun while doing it. Congratulations to Molly Howey for her well-deserved honor.