By Megan "MJ" Rogers, Visit Topeka's community partnership coordinator
There is a whole lot to love about our city, but currently my favorite thing about it is Restaurant Week.  I've had a waffle chicken burger and fries from The Burger Stand, macaroni and cheese croquettes, miso glazed salmon and a delicious chocolate dessert from The Blue Moose, and most recently a meal fit for Wonder Woman or maybe Oprah.  I think Oprah would approve.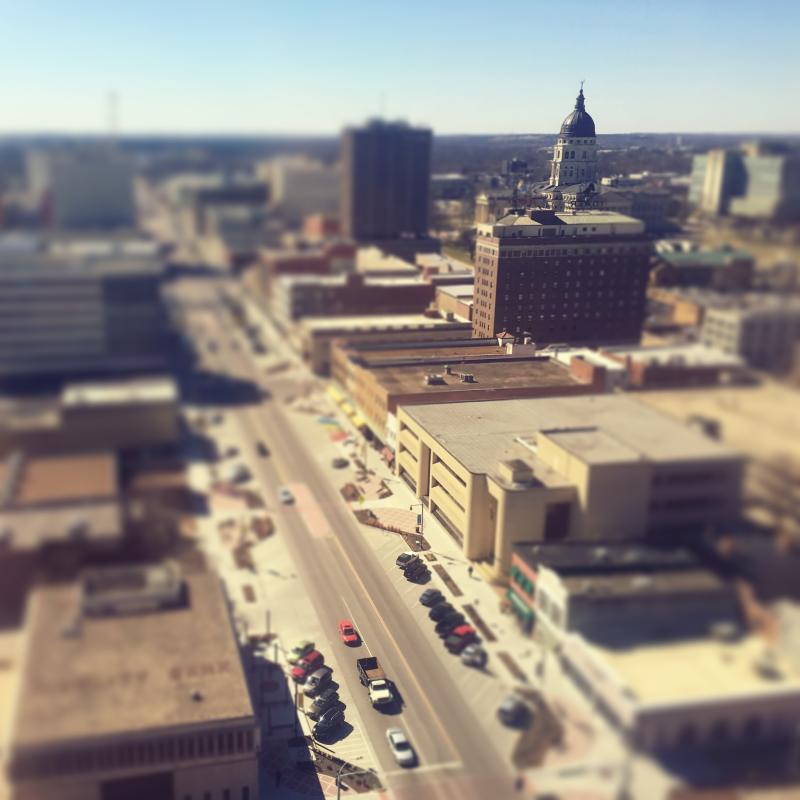 I made reservations for Top of the Tower over my lunch hour, and grabbed a co-worker to join me.  We made our way up to the 16th Floor of Topeka Tower and were seated in a room with a view like no other in town.  Topeka looks beautiful from above, with a view of Kansas Avenue, the Jayhawk Tower, and the State Capitol.  I had to take a photo.
Our waitress greeted us and pointed out the Restaurant Week menu that was on our table, explaining that a portion of those meals went to benefit Harvesters BackSnack program.  We, of course, were there for those menu items.  I chose the chicken fried steak, because I've had my heart set on it since the Restaurant Week menus were released.  Rose chose the Cajun chicken alfredo, which I also thought sounded delicious.
Our food arrived, plated nicely, and we dug in.  The chicken fried steak comes served with mashed potatoes and gravy, steamed broccoli, cauliflower and baby carrots.  The vegetables were cooked al dente, with the right amount of firmness.  The chicken fried steak was very flavorful, and I dipped the chicken fried steak into the extra gravy. I'm not going to lie, I contemplated sneaking some of Rose's pasta off of her plate.  She reported it also was delicious.  We both finished satisfied with our choices.
There were quite a few tables full as we were wrapping up, and I hoped that they were trying out some of the Topeka Restaurant Week specials for themselves.  I'd give our meal and experience two thumbs up!