Even when it is not Topeka Restaurant Week, Blue Moose Bar and Grill is one of my favorite places to eat in Topeka so I was quick to call dibs on writing about it. I tried their three-course dinner special for $25 and it was well worth the money.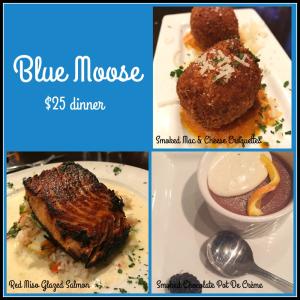 For the appetizer you have the choice of Duck Confit Salad or Smoked Mac & Cheese Croquettes. Being a macaroni fanatic, I chose the croquettes. Never heard of a croquette? It is a basically a macaroni and cheese ball covered in breading. It was delicious. The only downside is you only get two (which for calorie moderation is probably a good thing) but if you want more, the croquettes are under the Small Plates section of the menu. You can add three for $7.99.
For the entrée I tried the Red Miso Glazed Salmon. The salmon and rice had great flavor. The rice was cooked perfectly and the salmon was nice and flakey. This entrée is not on their regular menu, so if this sounds good to you, you better go try it  … before Topeka Restaurant Week ends March 7.
The Smoked Chocolate Pot De Crème was cool and creamy chocolate with a dollop of vanilla crème on top. This is not a standard menu item either, so don't miss it!
I love Blue Moose so much, I also tried their Carne Asada Tacos for lunch. They were also really, really good. The steak was tender and had wonderful flavor. If you are sensitive to spice, I don't recommend the rice, because it's quite spicy. I finished lunch off with a piece of Limoncello Crème Torte, not on the restaurant week menu, but delicious anyway.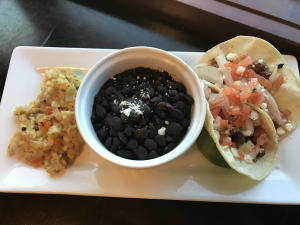 The most exciting thing about Topeka Restaurant Week for me has been trying new dishes. It's very tempting to order the same thing over and over again every time I visit my favorite restaurants. This week has made me step out of my comfort zone and try new things.
And don't forget, $2 of every Topeka Restaurant Week lunch and $3 from every supper you purchase supports the Harvesters BackSnack program for local children.