As part of their new home at 719 S Kansas, the Greater Topeka Partnership and specifically Visit Topeka built out a temporary Visitor's Center that will serve as the front door of the GTP and the Topeka & Shawnee County community. Eventually, the space will be on the first floor of the 719 Kansas offices, but it currently resides as a storefront at 715 S Kansas. I sat down (well more accurately stood) with the Visit Topeka staff to learn more about our community visitor's center and how it all ties to the greater goals within the GTP. Both Mike Bell, vice-president of Visit Topeka, and Jessica Schenkel, sales manager for Visit Topeka work to bring conferences, sporting events and additional large groups to the Topeka & Shawnee County area that increases the economic landscape through the transient guest tax but also tourism dollars spent in the community.
In general, what is the purpose of a visitor's center?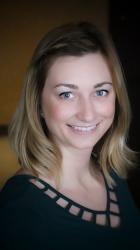 Jessica Schenkel: To provide information to visitors of our city and Mike can give you all the other details. (Laughingly)
Mike Bell: Ha, ok. To provide a familiar spot to the local person and to provide an easily accessible resource for out of towners to come in, gather information and adapt their visit based on their learning. It is a repository of information regarding tourism.
The state of Kansas provides lots of visitor centers throughout the state? Why provide a local center and not just rely on the state?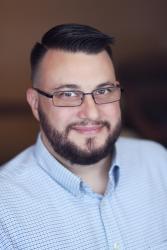 Mike: So, two pieces there. First, the Topeka Visitor Center is a supplement to the state offered ones; and we don't have to rely on them providing all the information about our community. We already have a presence with them, providing Topeka Visitor Guides and other resources but that operates at more of a high-level overview than what specific visitors to Topeka want to learn.
Second, with our downtown location, we can pull traffic from the interstate but still provide the specific resources to more local and unique experiences through retail, restaurants, attractions and hotels.
We'll have the visitors centers on the ends, then the highway based center and finally our local community-based center in the heart of our city that provides engaged visitors with detailed information about our community, events and more. That's why it's important.
What does it look like now vs when it is all finished?
Mike: It looks like a storefront (laughing) with branded information about our attractions and tourist destinations. It has information about statewide attractions. It is staffed by an employee of the GTP to answer any questions that visitors have about our city.
Jessica: Also, information about events and what is occurring in the community. And it has a large #TOPCITY sign in it.
Mike: Right now, it isn't filled out much as we will be eventually moving into a smaller space and therefore can't spread out too much.
OK let's talk about the new space. What will that be like?
Mike: A concise space that provides the necessary information along with a hospitable and knowledgeable staff person for help. A strategic use of available space with provide further resource management. That's pretty broad but that's all we're in the position to say right now.
Jessica: We hope to have adequate staff during high need and high traffic areas, though.
And what is the timeline on that?
Mike: By the end of 2019… we hope. There's a lot of variables still, though.
Who usually stops into the Visitor Center?
Jessica: We've seen all types of people come through.
Mike: That's right, there's not one specific type of person. We have found that people are inquisitive and inquire from all realms of life.
Jessica: Yeah, you have no idea who is going to come through the door and what they will be after.
Mike: We don't know if it is a family member planning a family reunion or someone looking for information about relocating a business to Topeka. We have to treat everyone that walks in the door on equal ground. They could be someone that isn't here for anything visit related. They could be relocating their family or business or just wanting to help plan a small event or conference here in Topeka.
Jessica: Whoever it is, we're just happy that they are here.
What kind of questions do they usually have?
Mike: The big three are always:
What can we (as a family or group) do?
Where can we go to get something to eat?
Where can we stay?
Jessica: (jokingly) And if you want to find out the answer's we give them stop in and ask or go to visittopeka.com.
I like the plug! Ok, changing gears a bit, what makes a good visitors center? Let's say the top three things?
Jessica: Hospitality
Mike: Yeah, a friendly person that welcomes as they walk in the door. Second, clear, concise information.
Jessica: And the ability to look up the information when we don't know it offhand
Mike: (Jokingly) Internet access!
Jessica: Ha! Yeah but really, it's the ability to help find the information and going the extra mile to make it personal. Finding that personal touch.
Ok, I get that. So, looking at the community and how it benefits, what are the top five local business sectors that benefit?
Mike: Tourism (laughs because it is so broad)
Haha, ok. More specifically though.
Mike: It's still kind of an easy answer but hotels, attractions and restaurants would be the top obviously.
Jessica: And then retail. With an emphasis on the unique local options. When people stop in and ask, they want to hear from a local person about a local place. So, the small business owners in these areas are some of the biggest referrals.
Mike: Yeah, they want to go with experiences, so they want to visit Hazel Hill or Prairie Glass down the street. And then probably the arts rounding out the list. NOTO and TPAC are both examples of the arts community in Topeka that get asked about and referred to.
So now that we know just some of the benefits to the community, how can the community help?
Mike: Be a member of the Partnership so your info is readily available to us in our CRM system. Before we search online, we search for internal members who can fulfill requests. Also, though, understand that we can't house all the printed materials that you may want to provide. We have limited space for those, so it is better if you give us coupons or offers through our online portal in SimpleView. Then we can find it easy and pass that information on.
Jessica: Help us tell your story for you by giving us as much information as you would like shared but not so much that it becomes un-referenceable. Provide the information that we may not already know. We'd be happy to talk to you about it as we are constantly asked to set up tours and experiences in the community and having those contacts helps us cater more to the end group using them.
Mike: Yes, helping give experiences is a big part of our jobs. When we bid on conferences and other big events it helps if we can give them something unique. So if you have something that we can add to our toolbox, please get ahold of us and let us know.
How else does a Visitors Center help support GTP members?
Mike: It provides awareness to locals on events and festivals as well as businesses, but it also brings in new money to their door from outside the community. The people that they aren't really paying to get to their door right now. Most referrals for businesses come from within a community. Most of these referrals come from outside the county.
One of the things that help give people information when they stop into the center are the brochures and flyers that the GTP produces. What is the effectiveness of tactile brochures?
Mike: People still like the touch and feel of something in their hands. It gives them the reminder that they went to a place and they have something from it. It can become the keepsake from their trip. It also provides us some feedback on what attractions and hotels are being requested the most. For instance, we recently printed 2,000 each of these rack cards that all went on the racks at the same time. Based on consumption we can start to see some trends from what people are engaging within our community. Our most requested and taken rack card was for the State Capitol followed by the Brown Vs Board and Mulvane Arts Museum cards. Now there is a lot to break down and I don't know if it speaks to demographics or anything else, but it can start to give us feedback and some measurables to base further marketing on.
Jessica: It also provides them something trusted and personal. When you see that someone put the effort and cost into printing a piece you know that it is something that whoever put that piece together wanted you to know. It comes across as more trustworthy than a simple Google search would provide and allows you to reference it more quickly than looking it all up again.
So finally, while researching this topic I came across a study by the University of Massachusetts Amherst in 2007 titled "The Effectiveness of Community-Based Visitor Information Centers." One of the conclusions that they came to was that community-based visitor centers were proven to draw and influence visitors who are more likely to increase their stay along with their spending over highway-based visitors centers. With this study being over 10 years old now, how have those stats changed and what can our specific visitor center expect?
Jessica: I don't feel that they've changed. Mike, do you feel that they've changed?
Mike: Well that's a great question. I would say that the folks that are wanting to stop and gather information in our Topeka Visitor Center would still be more likely to stay longer and spend more based on what they come across. Additionally, the local planner would also be more likely to find information at the local level to have a group stay longer and spend more as well. For example, if a simple family reunion planner stopped in and began to research possibilities, they would be more likely to increase the nights that they ask guests to stay in Topeka based on how they find out how much there is to do here. They may have been only planning a Saturday event but if we can help them get a better package put together then they could do a Friday, Saturday and Sunday. So, the conclusion of the study could still be valid. There were people coming to visitor's centers then and there still are today. We have to provide more information about our city through social media and online components but there are still the people that want to come in and have that one on one communication and that will probably never change. Over the past ten years the traffic to the centers may have gone down overall but that is where we put our efforts into online messaging and engaging with our audience through there. The need for the visitor center and what it provides will never go away.
Well, thank you Mike and Jessica. It sounds like the Topeka Visitor Center is going to be a wonderful resource to the community and will continue to adapt to the current trends in tourism.