EXPEDITION MONTGOMERY
A 2 DAY INTERACTIVE WORKSHOP DRIVEN BY MOMENTUM 2022
Intercity visits are a great way for community leaders from the public, private and nonprofit sectors to gain knowledge about innovative ideas and programs from other cities. The visit provides an opportunity for interaction among city leaders and facilitates the exchange of best practices and lessons learned between two cities.
This fall we are headed to the central hub of the Civil Rights Movement – Montgomery, Alabama, where we'll learn directly from local leaders about important topics like economic development, entrepreneurial resources, tourism, riverfront development, diversity, equity and inclusion, education, local government and more! 
TRAVEL & AGENDA INFO
Jump To: Agenda  |  Travel Info  |  Hotel  |  Airfare
Check here periodically for the most up-to-date information about the Intercity Visit.
Session topics have been finalized. Full agenda details can be found on the Expedition App. Use code "expmontgomery" to get access. Speakers and locations will be finalized the first week of September and added into the trip mobile app.
Tuesday, October 1
7:00-10:00 p.m.  Welcome Cocktails at hotel bar The Exchange
Wednesday, October 2
1:30 – 3:00 p.m. Lunch and Welcome sponsored by Bartlett & West
3:15 – 4:30 p.m. Catalysts for Montgomery Panel Discussion
4:30 – 5:30 p.m. Hotel Check-In and Refresh
5:30 p.m. Meet in the lobby for a short walk to the reception event
5:45 – 6:45 p.m. Welcome Cocktail Reception at Tavern and Porter Room
6:45 p.m. Dinner at The Alley, sponsored by Architect One
9:00 p.m. Optional Networking and Nightlife in The Alley
Thursday, October 3
8:00 – 9:00 a.m. Breakfast & Military Relations
9:15 – 10:30 a.m. Diversity, Equity & Inclusion in Action
10:45 a.m. – 11:45 a.m. – Quality of Place as Workforce Development
11:45 a.m. Gather in lobby to walk to Riverwalk Stadium
12:00 – 1:15 p.m. – Lunch at Riverwalk Stadium, sponsored by Vision Bank
1:30 – 2:00 p.m. - Now You're Just Braggin'
2:15 – 3:15 p.m. National Memorial for Peace and Justice Tour
3:15 - 5:30 p.m. Development Breakout Sessions
5:30 – 6:30 p.m. – Personal Unwind Time
6:30 – 7:30 p.m. – Cocktail Hour sponsored by Cox Communications & Kansas Gas Service
7:30 p.m. – Group Dinner sponsored by Schwerdt Design Group
Friday, October 4
8:00 – 9:00 a.m. Breakfast Panel – Community Policing and Blight
9:15 – 10:15 a.m. – SMART CITY
10:30 – 11:15 a.m. – A Cautionary Tale
11:45 a.m. Expedition Montgomery ends - have a safe flight home!
The official kick-off of Expedition Montgomery will be a quick lunch beginning at 1:30 p.m. on Wednesday, October 2. The organized events will conclude at noon on Friday, October 4.
The registration fee covers hotel stay for Wednesday and Thursday night at the Renaissance Hotel.  It also includes daily breakfast, lunch, snacks, cocktail receptions, dinner, and transportation while in Montgomery.  Airfare, gratuities, drinks and entertainment after nightly dinners are the responsibility of the attendee.  The hotel does have rooms available on Tuesday night at the group rate should you choose to fly in the night before.  The GTP Staff will host cocktails from 8 – 10 p.m. on Tuesday night to welcome you to Montgomery should you choose to arrive early.
Delta, United, and American Airlines fly into Montgomery (MGM) Airport from Kansas City (MCI). It is a quick 10-minute drive from the airport to the hotel. GTP staff will be there to greet attendees at the airport and drive them to the hotel.
Walking/Running Routes recommended by our friends in Montgomery, AL
1 Mile Coffee Run -  This short walk/run ends at Prevail Union Coffee Shop.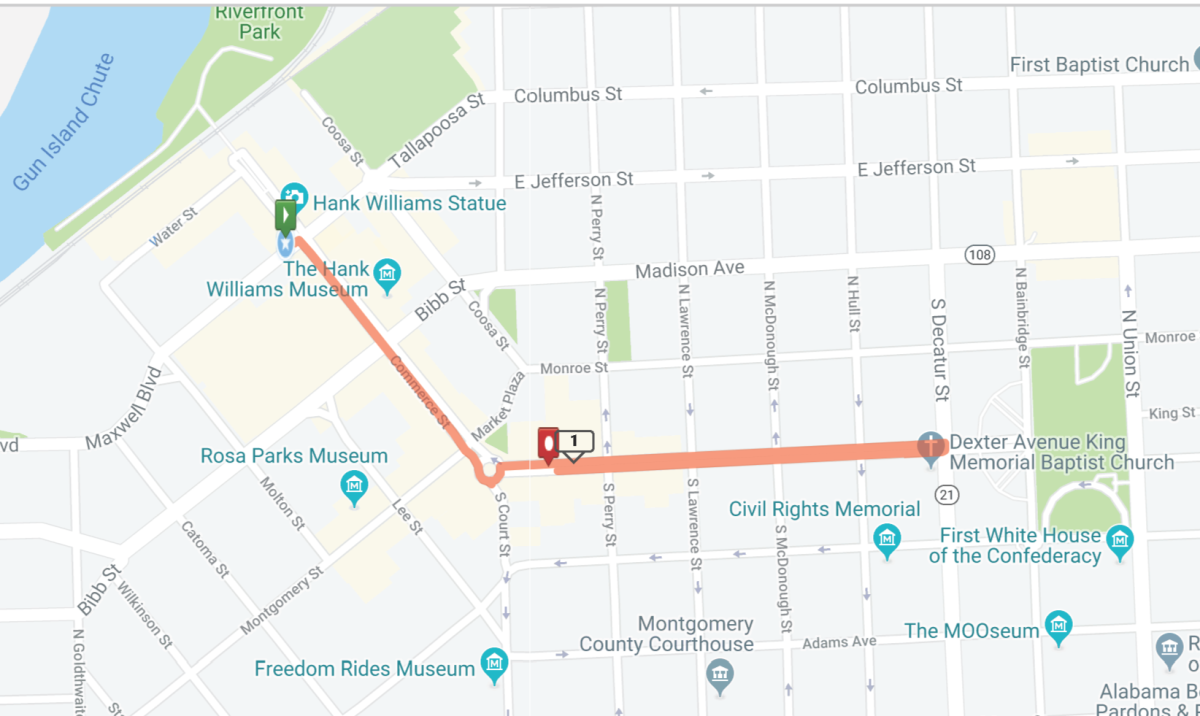 MGM 5K(3.1 Miles) - This includes the Baseball Stadium, Capitol, Dr. King's Church, the EJI Memorial and a nice downhill at the heart of downtown on the way back.
MGM 5 Mile Walk/Run - This takes you by the Baseball Stadium, Capitol, Dr. King's Church, EJL Memorial, Cottage Hill neighborhood and down a nice hill with a view on the way home.